As promised – a step-by-step photo tutorial of the process behind tooling.
This is by no means a comprehensive look – more for interest's sake. If you really want to learn to do this, it's best to have a pro looking over your shoulder ahem – Tundra. There are so many individualized mistakes you can make (how hard you're tracing, how hard you're striking the tools, the angle you're cutting on) that a talking head or a how-to video won't address and you'll just end up falling hard into bad habits.
So. A lot of people assume tooled leather goods are made by impressing or branding leather with giant metal stamps. The mass-marketed stuff is made that way, but hand-tooled leather is a little more work than that.
I've used images from two different projects (a belt and a cuff) to give you a couple reference points for what the pieces look like at various stages.
Step 1 – Design your image or pick up a pattern book. There are a ton of master crafters out there who sell books full of step-by-step instructions on completing specific motifs or designs. These are fantastic resources, especially when you're starting out, because they remind you exactly when and where to use which tools.
Once you've chosen or come up with your own design, trace it on to transfer paper – a static-y acetate sheet that takes pencil marks well.
Step 2) You must use tooling leather for this type of leatherwork. Not all leather is good for tooling – some hides are treated and won't take impressions no matter how much you hack and hammer. Vegetable-tanned tooling leather is a creamy skin colour that takes cuts and impressions well when it's wet. It comes in all kinds of weights/thicknesses. In these pictures, I'm using a 7/8 oz for the cuff and a 9/10 oz for the belt.
So. You want to trace your image from the transfer paper on to the leather. To do this, wet the leather (don't soak it, but make sure it's nice and damp) with a sponge, set the transfer paper down and trace your image with a stylus or pen. You don't need to press hard.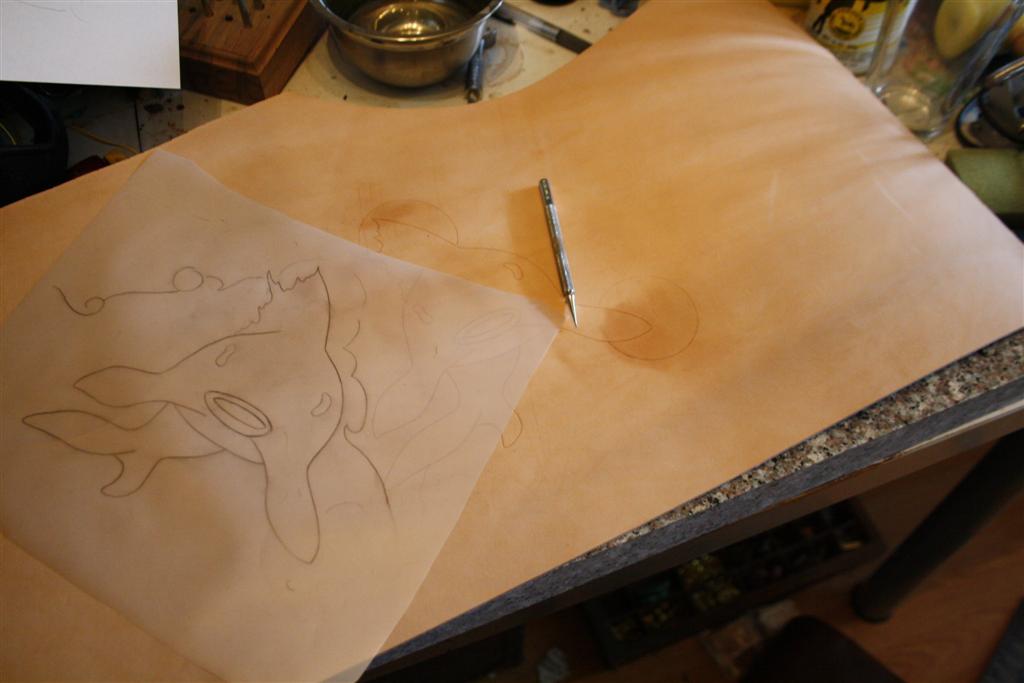 Step 3) I like to trace onto a swatch of leather larger than the finished piece is going to be, then cut the excess away with a head knife. It's more forgiving than cutting the leather and then fitting the image to it.
These knives are sharp as anything. Please take care not to cut your head clear off with one.
Step 4) Once you've finished tracing your image onto the leather, you'll have a nice dark outline of what you're going to carve. The swivel knife is what you use to do this. It has a pivoting saddle on top of the body of the blade. Your index finger sits in the saddle and steers the show. Again – you need to keep the leather wet while you're doing this or you'll end up wrestling with and mangling your project. When the leather is wet, the knife slides like butter.
You can also use the knife much later on to add flourishes or simple lines wherever you like. You'll see this in the final photos.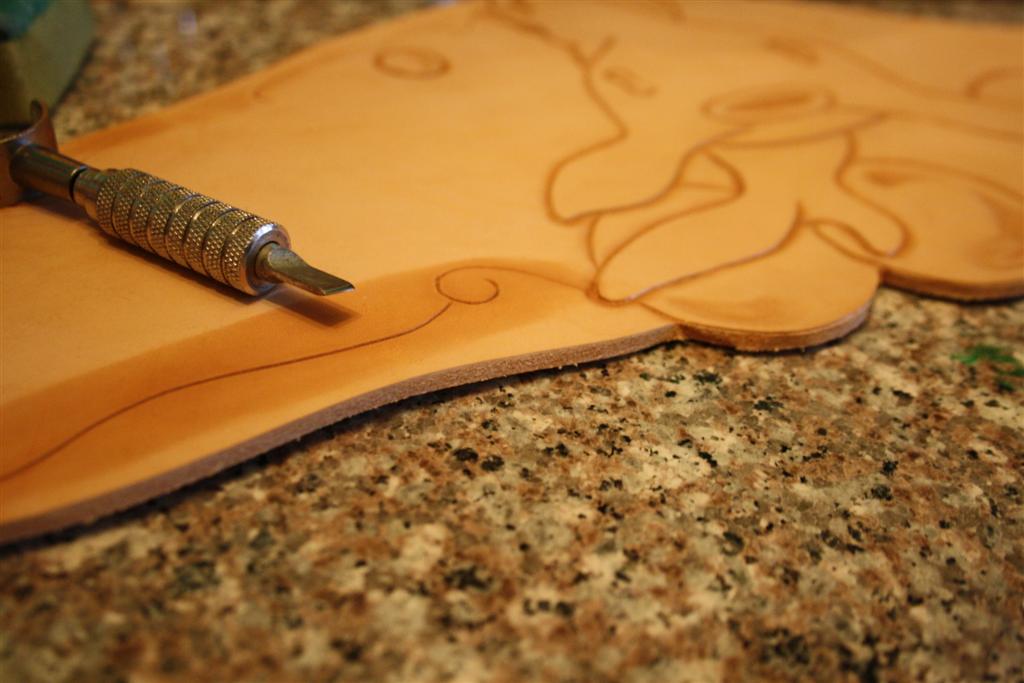 Step 5) There's a specific order in which you use the various tools so things end up looking sharp. For the belt, I only used four – two bevellers, a pear shader and a backgrounder. For the cuff, I used six – same as the belt plus a seeder and a similar floral tool.
Each tool is about half the size of your baby fingernail or smaller. You make impressions by using one hand to guide the textured surface of the tool on the (again – wet) leather and the other hand to tap-tap-tap the end of the tool with a mallet.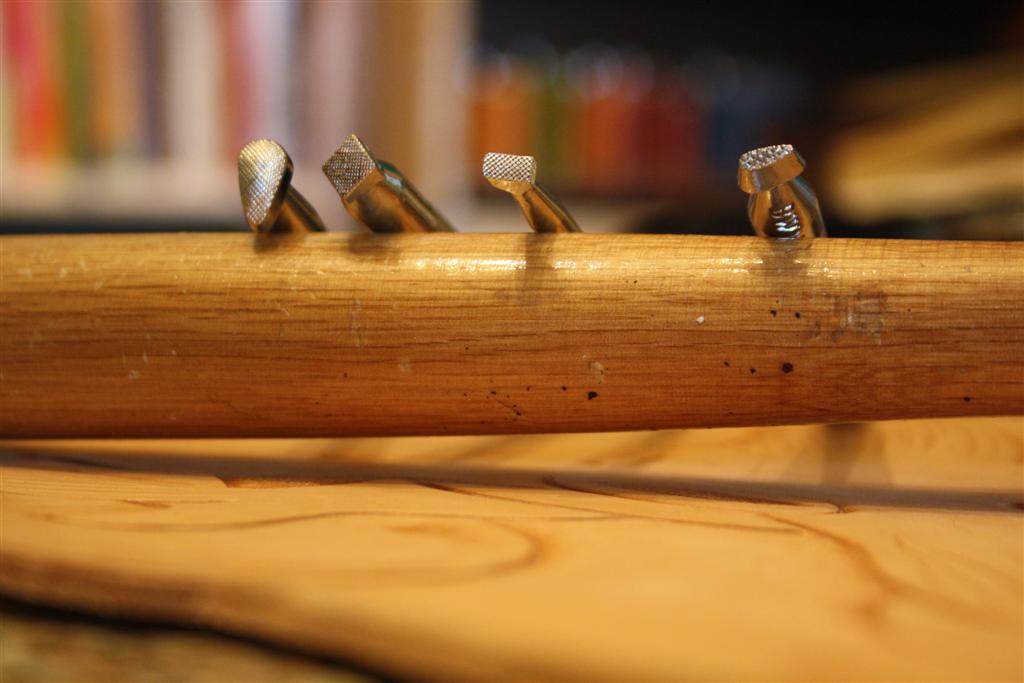 Step 6) The pear shader is used to create shadow on any part of the leather. It's key for giving depth to flowers, or in this case – a bit of shine to the edge of a bubble.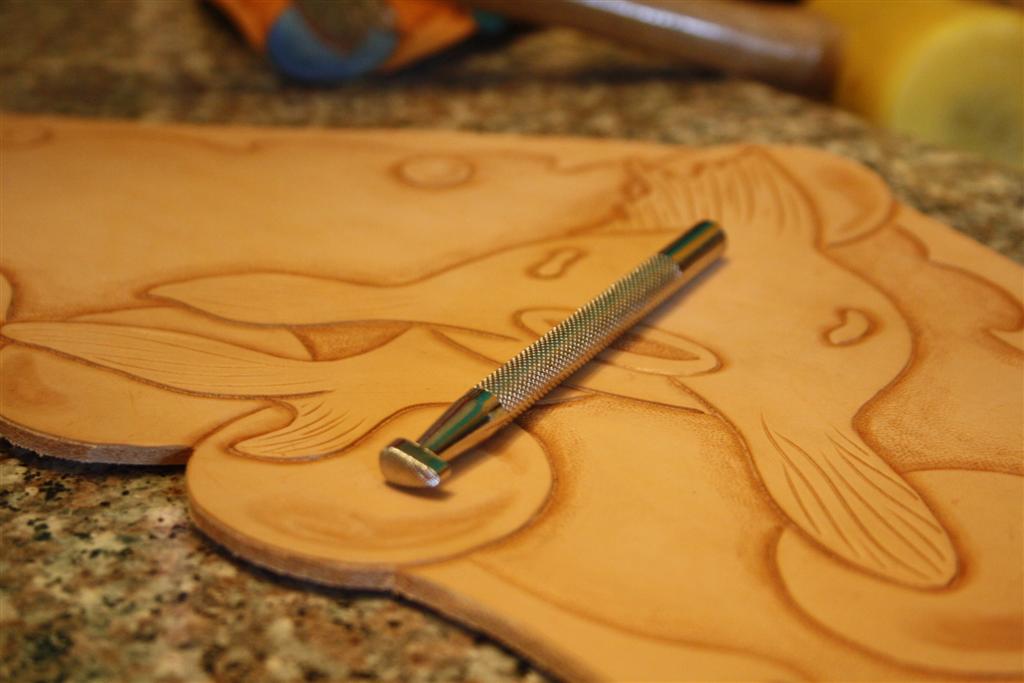 Step 7) Bevellers come next. You use them to raise and flatten all the cuts you made with your swivel knife. This is why a sharp swivel is your best friend. It's sooooo much easier to keep the (slightly angled) tool in the cuts if the cuts are deep, which is only achieved with a sharp knife. I usually use the tiny guy exclusively for tight curves and curlicues.
Step 8 ) The backgrounder creates a bit more depth. You use it to follow the lines in all the areas you just bevelled. As you move further from the edge of the image, lighten your mallet strikes to fade the effect.
Step 9) I lied – I used five tools on the belt. The seeder is pretty simple. Use it anywhere you want to make the below circles.
Blammo. Five or six episodes of This American Life later and you have a finished piece.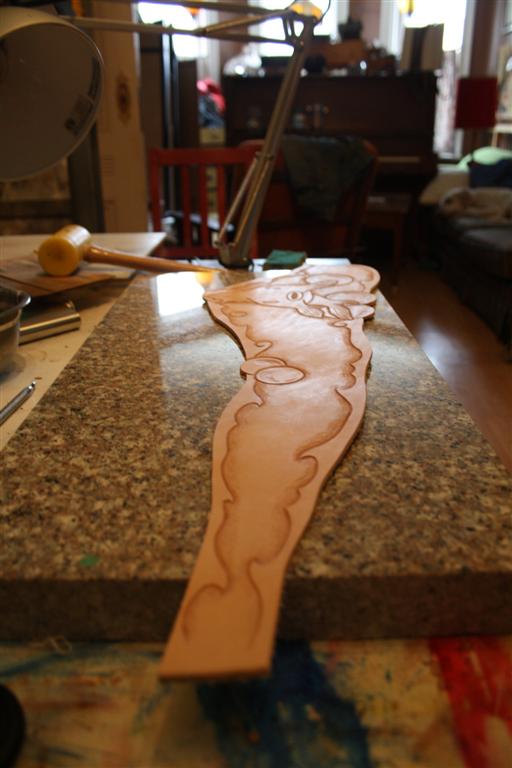 Well..almost. I'm going to spend today and tomorrow painting my fishy pal and then I'll have a finished piece. Check back.
Read more →